Welcome to my booking info page where you can read general information regarding tattoo bookings and FAQ.
Please ensure you have read this page fully before submitting a booking request form.
Location
I am located in Belmont, Perth – shop address will be supplied upon securing a booking.

Tattoo style
My specialty is colour, black and grey & opaque grey style tattoos.
Please refer to my portfolio which can be found on Instagram, Facebook, and Gallery to see the kind of work I accept, as I rarely stray from my style.
I am happiest when tattooing animals, sea life, pet portraits, horror, spooky stuff, portraits (characters, celebrities etc.), nature, detailed objects, abstract art, surrealism, and anything realism, super textured and detailed!
Some subject matters and styles I do not take on include: pocket watches, phoenixes, anything traditional style, traditional japanese, script or lettering tattoos.
However, I'm always open to everyone's suggestions, especially if I am given artistic freedom and free rein! Feel free to enquire.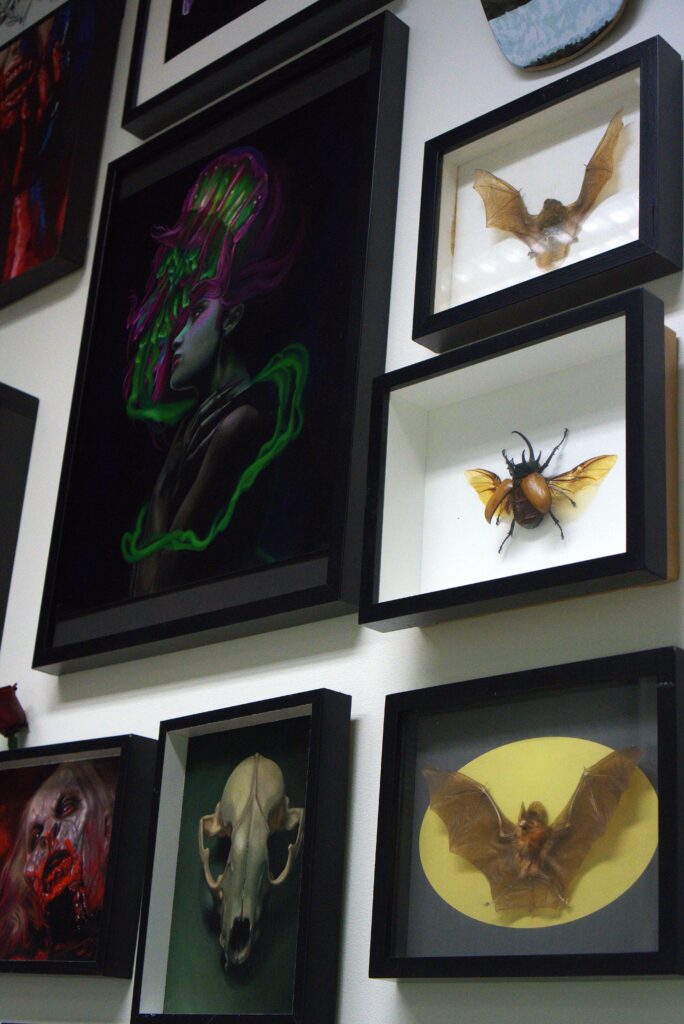 Tattoo cost
$200 per hour
Full day is capped at $1200.
I often do long full day sessions 8-10hrs.

Please advise me before securing your appointment if you have a strict budget.

Age
You must be over 18 to be tattooed, photo ID is required on the day of your appointment.

Deposits & cancellations
A non-refundable $200 deposit is required to secure each booking date.

The deposit goes toward pre-purchased supplies and the hours spent designing in preparation for your tattoo.

The deposit will come off the total cost of your tattoo on your booking date.
If you are unable to make your appointment and need to reschedule, your deposit can be transferred to your next booking date, provided a minimum of 72hrs notice is given.
Multiple, constant or last-minute rescheduling may result in the forfeit of your deposit, so please double check your booking dates work for you.
Tattoo sizing for realism
Portrait/realistic tattoos should not be done small – these tattoos must be big enough to accommodate the amount of detail that has to go into them.
The longevity of your tattoo (how it heals and holds up over the years) will be much better if the tattoo is large enough.

I will give you guidance on appropriate sizing during the designing process, as it varies from person to person and depends on the design. If you have a specific sizing restriction please include this in your booking form so I can customise the design to your needs.
Realism tattoos info
Realism tattoos are time consuming, especially when they are done in colour. Quality over quantity is key. Lots of layers and details are required to create this kind of tattoo.
I only want to do my best work, and my best work requires time and patience. I don't want to rush the work, and I guarantee you don't want that either.

If you are after something on the faster side, please chat to me about it, there are certain recommendations I can make for style, design and placement if you want this style done asap.

Realism tattoos done in full colour are not suitable for all ages and skin types. I will assess your skin during the booking process and advise on the best perceived outcome for you. Feel free to enquire!
Style options
Colour:
Using a full palette of colour inks only. Colour tattoos are fully saturated leaving no 'blank' skin in the design. Best suited for pale skin tones, on body parts that don't see the sun much. This is the most time consuming type of realism tattooing.
Black and grey:
Also referred to as 'greywash'. Using black and diluted black pigments only to create the tattoo. This is the least time consuming type of realism tattooing. Suitable for most skin types and complexions.
Opaque grey:
Using a full palette of grey colour pigments only. This is the same application and rules as a colour tattoo, but generally less time consuming due to less 'colours' used in the palette. This is faster than colour, but slower than black and grey.
Design parameters
As I take on work within my own style and interests, freedom with the design is preferred. If you agree to give 'artistic freedom' in your booking form submission, I will adhere to your request to the best of my ability, but put my own artistic flair and tattooing knowledge along with it to ensure you get the best possible tattoo. Which means you will not have a heavy influence on your tattoo design.

Many factors are taken into consideration during the designing process such as your skin type (complexion/age/scars/stretch marks/moles etc.), which designs translate well to skin, placement on the body, sizing parameters, longevity of the tattoo (what's going to age well over the years).
I kindly request you keep an open mind with the design as I only want to do my best work.

You are being offered a tattoo appointment based off your design idea, therefore a change of mind can result in a cancelled or rescheduled appointment. This depends on how late notice the change of mind is, and whether or not the new design idea would have been accepted in the first place – this is decided on a case by case basis.
Minor changes to the design are usually not a problem at all, though difficulty coming to an agreement about the design once artistic freedom has been given to me by you, can result in a cancelled or rescheduled appointment.
Aftercare
Once your tattoo session is over, the aftercare of your tattoo is your responsibility. A bit of teamwork is required for a successful tattoo – as you expect me to apply the tattoo to the best of my ability, I expect you to heal it to the best of your ability.

All aftercare information is readily available here on this website, and you will be expected to follow it.
I advise to read it before booking in because some realism tattoos require some time off or limited activity depending on where the tattoo is on your body, your job, and your lifestyle.
Click here to view aftercare.

I offer support during the first 1-2 weeks of aftercare, you can email me any time you need with any questions or updates. I absolutely love updates and want to help out, because I really want to see my work perfectly healed as I'm sure you do too.
I rarely see big problems with my healed work, typically I see no need or minimal need for touch ups in most cases. I often recommend a second pass just to give it some extra love.
If needed, touch ups and second pass sessions are half standard rates. The reason these sessions are not free is because the same supplies, equipment and time is used as it is for any other session. Realism work isn't simple or quick and these sessions do take time out of my schedule. You have all the information and support you need to heal the tattoo correctly.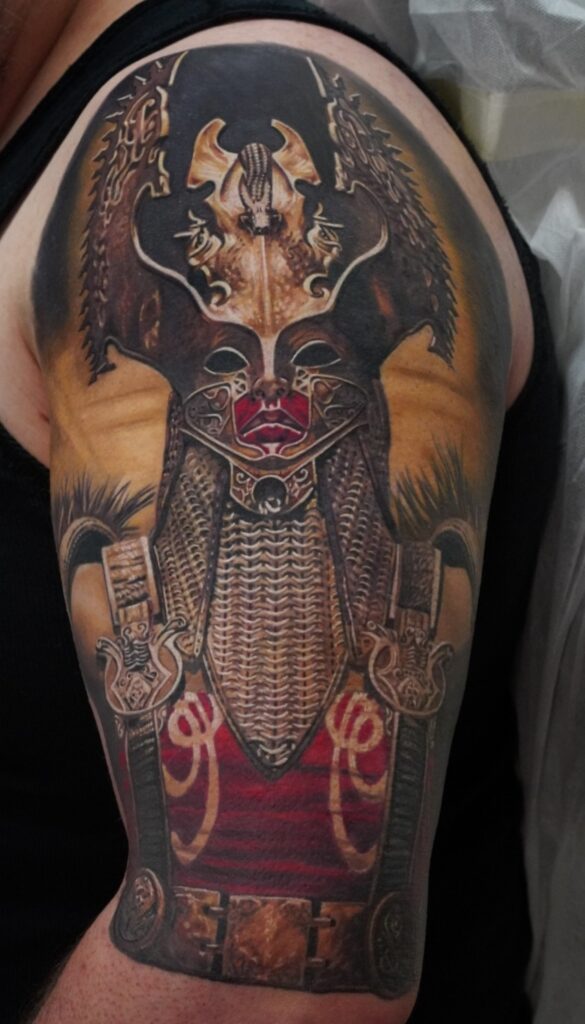 Touch ups
Touch ups are a small amount off ink loss, typically a few little spots here and there.
If you think touch ups are needed, please get in touch. You will need to email me with some photos of your tattoo 4 weeks after your tattoo session.
You can book your touch ups approximately 6-8 weeks after your tattoo session, as it takes this long for most realism tattoos to heal and settle properly.

Please try to come in as soon as possible, before the tattoo is over a year old is best.
After 1 year, you could be quoted standard rates since the ink will settle in more over time and may require more work.
Second pass sessions
A second pass is an additional session to pass over your existing perfectly healed tattoo to add more ink to the skin, as well as additional details and textures to the design that can't always be achieved in one session.

Although second passes are not compulsory, they are recommended for the longevity of your tattoo. The more ink in your skin, the longer it will last over the years.
During the body's natural healing process, a percentage of ink is "lost" from the skin. Doing a second pass essentially replaces "lost" pigment and increases the tattoo's overall ink density. Thus creating a more solid and long lasting tattoo.

You can come in for a second pass any time between 8 weeks – 1 year after your initial tattoo session appointment.
Second pass sessions are significantly shorter than your initial tattoo session, on average 1-3hrs is sufficient for any tattoos that were done in a full day tattoo session.
FAQ
How long is the wait?
I take bookings 3 months at a time and will open my books periodically.
My books are currently closed until January 2023.
To add yourself to my cancellation list click here.

Do you do cover ups?
I will only take on cover ups that are achievable to the standard that you can't tell it's a cover up.
Generally they need to be bigger than your original piece so please be prepared for that, and flexibility with the design is important to ensure you get the best result.
I will be very honest with you if I think a cover up won't work, and will not put my name to a tattoo I know will be unsuccessful.
Before booking in for a cover up, I will need to see clear photos of your existing tattoo.
Do you do fix ups?
I prefer not to add onto or fix another artists work.

What can I do to prepare for my session?
It is a good idea to moisturise your skin 1-2 times a day at least 1-2 weeks prior to your session.
Keeping out of the sun is extremely important. Sun burn and sun damaged skin can't be tattooed until fully healed.
Make sure you have a good nights rest, shower, eat healthy food and drink plenty of water.
Don't drink alcohol or party the day before your tattoo. If you drink alcohol regularly, please stop 1 week prior to your tattoo session because this can cause heavy bleeding which will affect your results.
Don't get tattooed while sick or recovering from surgery, injury or illness, it's best to get tattooed when you are feeling healthy.
If you have a very labour intensive job, please plan to take the first week off work to ensure optimal healing.
Is there anything I shouldn't take before a tattoo? Am I a suitable candidate for a tattoo?
You should NOT get tattooed if you are on blood thinners, roaccutane/accutane, acne medication, tetracycline medications, or any kind of antibiotic. You must allow 3-6 months between stopping roaccutane/accutane and getting tattooed.
You should NOT get tattooed if you are pregnant or immunocompromised.
If you have any chronic skin conditions, please advise me during the booking process since some can cause complications for tattoos if they are in the immediate area.
When will I see the design?
You can expect to view your design between 1-2 days before your booking date. You are welcome to ask for reasonable changes to the design.
Last minute major design changes can't be made on your booking date, as I normally need the whole day to focus on the tattoo.

How long will my tattoo take ?
Many factors come in to play.
This includes style choice, sizing, level of detail, placement, as well as other variables such as how you sit, how your skin takes ink etc.
Once design and sizing has been discussed, you will be given a rough idea on how long your tattoo will take.

On your booking date, make sure you don't have anything else planned, as extra time is spent discussing details, preparing, having breaks, wrapping it up at the end etc. It is normal to spend 1-2 hours longer in the studio than your actual tattoo time in the case of full day sittings.

Can I use numbing cream?
I do not recommend using numbing cream. Most brands work for about an hour and then it wears off and hurts much worse than if you didn't use it in the first place. It usually takes longer to tattoo over numbed skin and is known to cause healing problems. Then you have to come back and do it again.
There are a lot of below average numbing products out there that mess with the skin and cause things such as (but not limited to) rashes, poor healing, rubbery skin, burns & the ink being rejected from the skin.