Welcome to my painting commissions page! That's right, I decorate people's skin AND walls!
Here you can find all the information you need before requesting a painting commission.
Please read fully before submitting your request form which is located at the bottom of this page.
Info
Art style
I specialise in realistic style work, I normally take on work of my interests and prefer working with artistic freedom.
I am happiest painting horror, animal, pet portrait, portrait, abstract and dark fantasy theme work. Please refer to my gallery to see the kind of work I do – this is a similar style to what you will get!
I also love to collaborate using your ideas! Whether you want an immersive portrait, a dynamic landscape, a conceptual abstract piece, or you're looking to capture the beauty and essence of a moment forever, I've got you covered! The possibilities are endless.
I'm here to make your wall do the happy dance as your friends and family admire in awe.
Painting costs & deposit policy
Upon your painting commission request being accepted, you must secure your request with a non-refundable $400 deposit paid via bank transfer. Your deposit will be deducted from the total cost of the painting upon completion.

Painting pricing varies depending on canvas size and design detail.
Generally, the price range is somewhere between $500-$2000 for the size of canvases I currently offer.
You will be sent an approximate quote after your commission request is received and accepted.
Materials
Only professional-grade oil paints are used, ensuring that your oil painting is not only visually stunning, but also stands the test of time.
I work with high quality professional-grade cotton stretched canvas, made to stand the test of time and no need to get it re-stretched! All canvases have a thick depth of 4cm, which is both aesthetic and easy to hang!

I offer 3 sizes of canvas for you to choose from:
4×6" (10.16 x 15.24cm) – mini canvas suitable for 1 simple design.
8×10" (20.32 x 25.4 cm) – suitable for something like a stand-alone portrait (face and neck area only).
10×12″ (25.4 x 30.48 cm) – suitable larger portraits, busier and more complex designs, landscapes etc.
Due to my limited availability, I am currently only taking on these canvas sizes to ensure I can complete my work in a timely manner. However, I welcome inquiries for larger canvas requests!
Delivery details
If you are local to Perth, pick-up is available.
Shipping is available within Australia only. Postage costs will be quoted upon your commission request being accepted.
What to expect
Once your commission request is received, I will review it and respond with further information including pricing, design discussion & deposit information.
After your deposit is received, a mock-up design will be sent to you (unless you opted for a surprise), showing the composition of the design so you have a close idea of how the painting will look before it begins. Once you approve the mock-up, the painting will start.
Once your painting is complete, I will send you a watermarked photo of it for approval (unless you opted for a surprise) and any necessary amendments can be made at your request. Once you approve the painting, final payment will be due.
When final payment is received, the painting will be carefully and safely packed and posted to you, or you may pick it up if requested.
You will receive the painting with a thankyou card, care instructions for it & its authenticity certificate. Then it's time to hang it up and enjoy the artwork!
Possum Valley Animal Sanctuary
This wonderful sanctuary in Mount Helena, WA provides a safe haven for rescued animals, offering them a second chance at life.
This team of kind-hearted individuals works tirelessly to help vulnerable animals and they could really use some support to keep up with the high costs!

If you are a compassionate animal lover who wants to make a tangible difference in the lives of animals in need, please help support if you can! They accept donations both monetary and consumables, and can always use volunteer help
Visit https://www.possumvalley.org/ for more information & donation links.

This cause is very close to my heart, so to help support and spread more awareness, I am currently donating 30-50% of the total cost of all tattoos & painting commissions that are farm animal portraits, farm landscapes, native aussie wildlife, or portraits of any animals from their sanctuary. Including but not limited to – horse, cow, deer, alpaca, goat, sheep, donkey, camel, duck, goose, peacock, cockatoo, chicken, possum.
I have a bunch of beautiful photographs to use as reference that I personally took of some of the resident animals they are currently caring for.

If you would like to show your support through art, please select 'Possum Valley Animal Sanctuary' in your commission request form.
FAQ
Do I need reference photos?
That all depends on the kind of painting you are requesting.

In cases of personal portraits such as pet portraits, I will need at least one high quality photo to work from, multiple photos also help a lot! Similarly, if you wanted a specific image painted eg: a particular landscape, animal or person etc, then please send me reference photos.
If you'd prefer a surprise, something abstract, or want to simply give me artistic freedom to run with your requested theme, then no reference photos are needed.
How long will my painting take?
Every painting I make is a work of art crafted with the utmost attention to detail and passion.
Time frame depends on your canvas size, design detail level, and the weather (oil paint dries much slower in cold weather).
Oil paintings require weeks to dry between paint layers, and 1-2 weeks before the final varnish can be applied. Most of the time you are waiting just for the paint to dry!

Please note I am also a busy tattoo artist and only have limited time to paint. I kindly request your patience, however, if you really need your painting completed by a certain date, let me know!
I will try to accommodate your request to the best of my ability.
The approximate time frame from the time you secure your request with a deposit, to when the painting is ready to ship could be anywhere from 1-3 months.
Please note this is not including shipping time, which will vary depending on your location.
If you are local to Perth, you can pick-up!
When will I see my painting?
You can choose how involved you want to be in the designing process, as well as seeing the finished product. Some people prefer to have a surprise, others want to make sure they like the design before committing. I am happy to work either way! Simply let me know what you prefer on your commission request form.
What if I don't like my painting?
This is unlikely if you have seen the mock-up (see 'What to expect' section above), nonetheless, I will send you a watermarked photo of your painting before final payment. You can request amendments at this point and the painting can be adjusted.

However, in cases where you opted for a surprise painting, wellllll that's a bummer….
Haha 150% joking, I will happily redesign and repaint it once more at no extra cost. I want you to be over the moon with your artwork!

Once you have finalised payment, I am not able to accept any changes to the painting or returns.
Will my painting be framed?
All oil paintings are unframed because they are made on stretched canvas, which essentially has its own frame that you can hang up very easily – no framing required.
What should I do to care for my painting?
You will receive some information along with your painting on how to properly care for and maintain your original artwork so it remains beautiful for the years to come.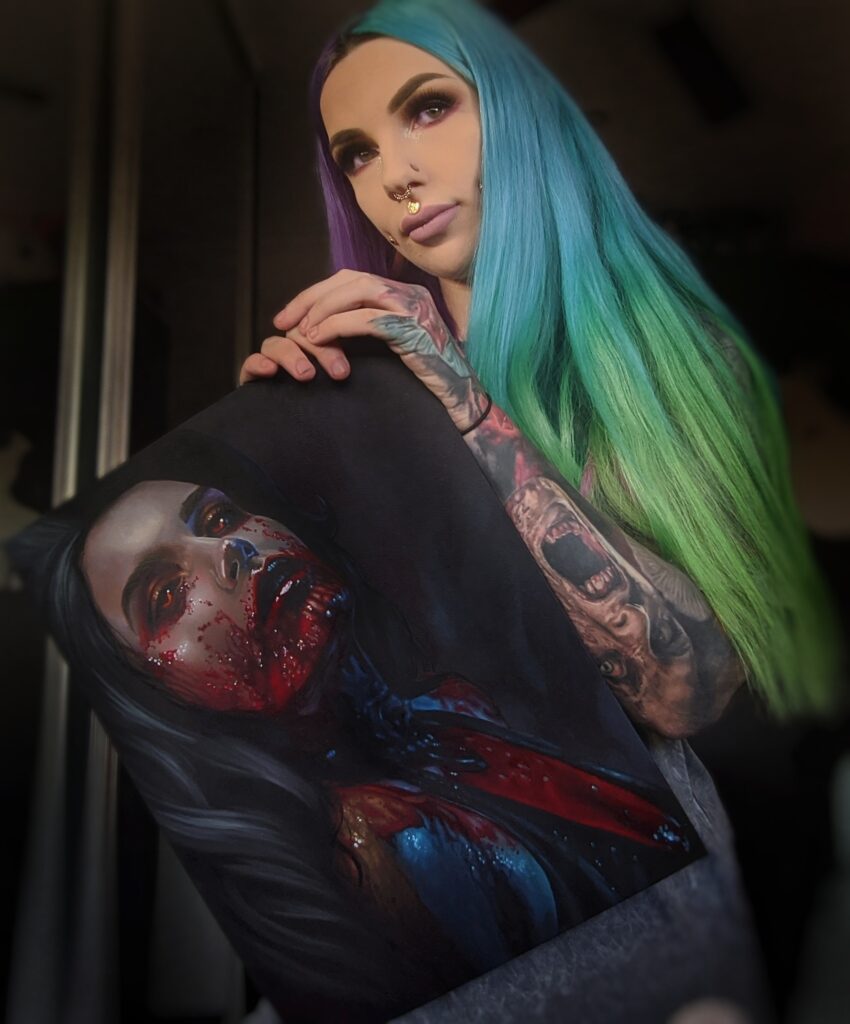 Painting Commission request form